Dentist - Reston
(703) 955-4440
12040 South Lakes Drive,
Suite 200
Reston, VA 20191
Perfect Smiles Of Reston Blog
By Aramesh Darvishian, DDS
May 15, 2013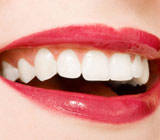 You've just had porcelain laminate veneers placed on your teeth to improve their appearance, color and shape. Now what? How do you maintain them and keep them looking their best?
A dental porcelain veneer is a thin layer of porcelain that is bonded to a tooth, replacing the enamel (the outermost layer of a tooth). Dental porcelain is a glass-like substance that can be used to mimic natural tooth enamel perfectly because of its bright, reflective and translucent (see-through) qualities.
To look after your veneers, it is important to maintain the health of the teeth on which they were placed, and of the surrounding gums.
About a week after your veneers have been placed, return to our office so that we can check them to make sure they are functioning well.
Brush and floss regularly using non-abrasive fluoride toothpaste; make sure you remove biofilm, the film of bacteria that collects on the teeth, every day. Flossing or brushing will not harm your veneers.
We recommend regular dental checkups to review the state of your veneers and your dental health in general.
Porcelain is a ceramic glass-like material, and like glass it is strong but brittle and can fracture when placed under too much stress.
You can eat almost all foods without harming your veneers, but avoid biting into hard things like candy apples.
Many people habitually grind or clench their teeth. If you are one of them, let us know. We can make a protective bite guard that you can wear to reduce stress placed on your teeth (and your veneers) while you sleep.
With good dental hygiene, and regular dental check-ups porcelain veneers can last from seven to twenty years or even longer. This makes them a good solution that will improve your smile for years to come.
Contact us today to schedule an appointment or to discuss your questions about porcelain laminate veneers. You can also learn more by reading the Dear Doctor magazine article "Smile Design Enhanced with Porcelain Veneers."
This website includes materials that are protected by copyright, or other proprietary rights. Transmission or reproduction of protected items beyond that allowed by fair use, as defined in the copyright laws, requires the written permission of the copyright owners.